What are the key challenges of Fiber to the X?
A successful and cost-effective service turn-up is critical not only the bottom line, but to acquiring and satisfying customers. A simplistic way to characterize the service turn up challenge would be insuring turn ups are on-time, trouble free, and under budget.
Managing the complexity of multiple vendor deployments. Today's leading edge service platforms may be obsolete tomorrow as electronics providers come out with their latest and greatest gear, merge with other companies, or even go out of business. Interoperability between OEM equipment is equally complex. The incompatibility between pluggable components between OEM platforms adds complexity and cost to operating FTTX networks.
Leveraging the FTTX investment across the service offerings. Maximizing and extending fiber infrastructure to serve residential, business, and backhaul customers.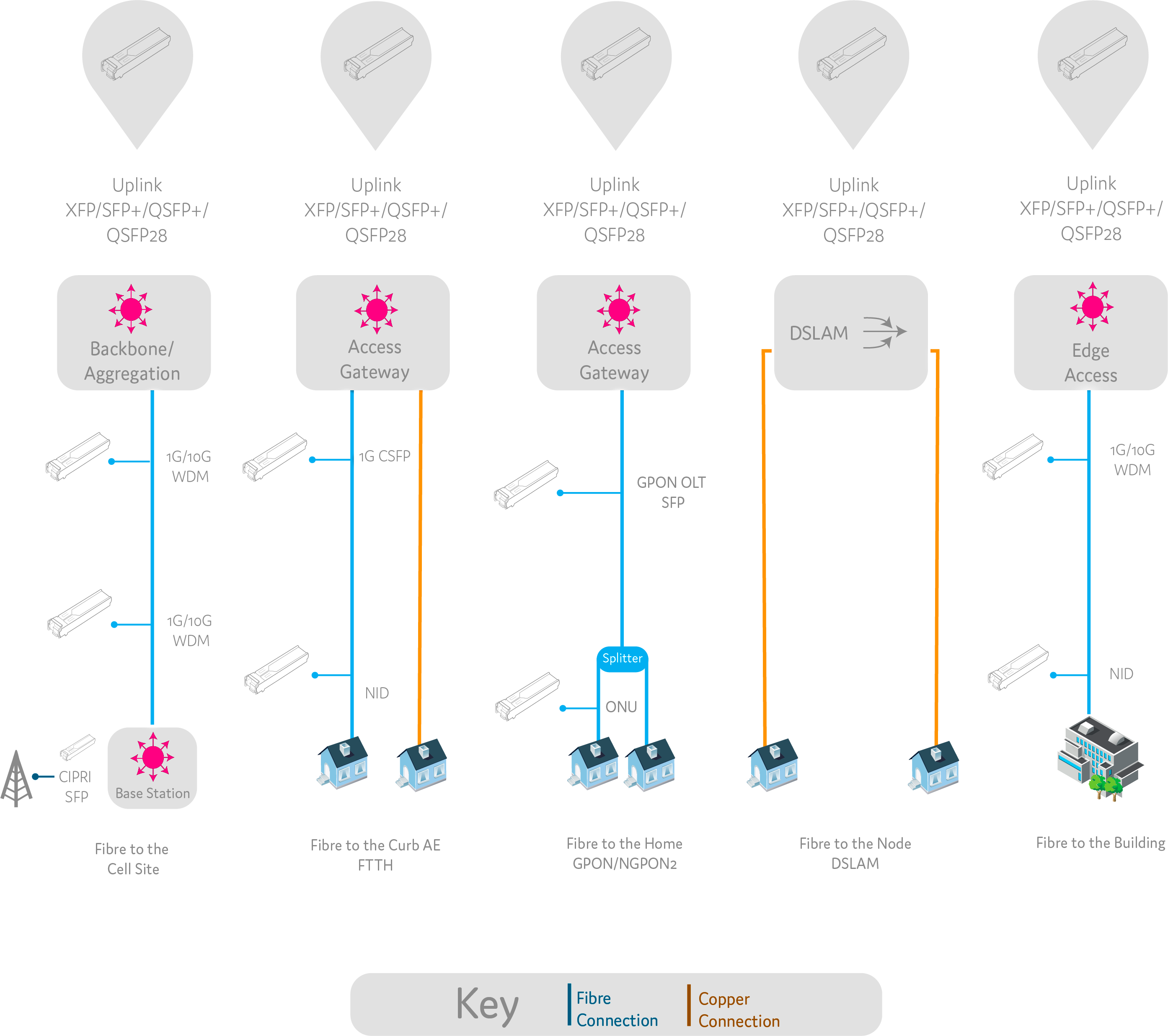 The ProLabs Benefits
A single source for each vendor compatible transceiver
A wider range of transceiver options than each individual OEM can support
Support legacy systems & obsolete OEMs
Interoperability knowledge
Quality assured product
Rapid delivery
100% Compatibility
Lifetime warranty
Our Solution
ProLabs FTTX products are addressing the challenges posed by operating FTTX networks.
ProLabs has long provided an alternative to OEM transceivers that allow service providers the benefits of low prices, large stocking position, and a 100% compatibility guarantee.
ProLabs offers service providers all the tools required to ensure service turn ups on-time, trouble free, and under budget.
ProLabs is the market leader in the compatibility space. We take the guess work out of vendor compatibility.
ProLabs full suite of GPON and gigabit Ethernet FTTH products includes compatibility with leading platforms including Adtran, Alcatel-Lucent, and Calix, as well as many other OEM platforms.
ProLabs also can provide optics that the OEMs do not or no longer provide, ensuring service continuity across the ever changing network equipment landscape.
Service Providers need a full tool box for truly maximize investment in FTTX networks. ProLabs has partnered with our customers to be on the forefront of providing solutions to help our customers maximize their FTTX infrastructure. ProLabs WDM and bidirectional transceivers offer service providers the flexibility to increase capacity and bandwidth over existing fiber assets.
Contact our global sales team now
For all sales inquiries please contact us at sales@prolabs.com.
Download FTTX Solutions Overview