Data centers use high speed direct attach cables (DACs) or twinaxial (twinax) cables – a type of cable similar to a coaxial cable but with two inner conductors instead of one – for high speed 10G to 400G connections because they offer a low-cost, high-density alternative cabling solution. Let's break down the terminology to better understand the characteristics of DACs and power high speed data center connectivity.
What is a DAC?
A direct attach cable (DAC) is a type of factory terminated twinax cable that connects directly into transceivers and is available in a variety of lengths for short distances of up to 15m. These cables are made up of fixed lengths of shielded copper coaxial or fiber optic cable with pluggable transceivers on either end with gauges ranging from 24AWG to 30AWG. DACs can connect up to 15m through twinaxial cable and up to 100m through active optical cable at 10G, 40G, or higher.
There are three common DAC types:
Passive vs. Active DACs
The main difference between Active DACs and Passive DACs is that Active DACs use electronics for signal conditioning, whereas Passive DACs don't use electronics for signal conditioning.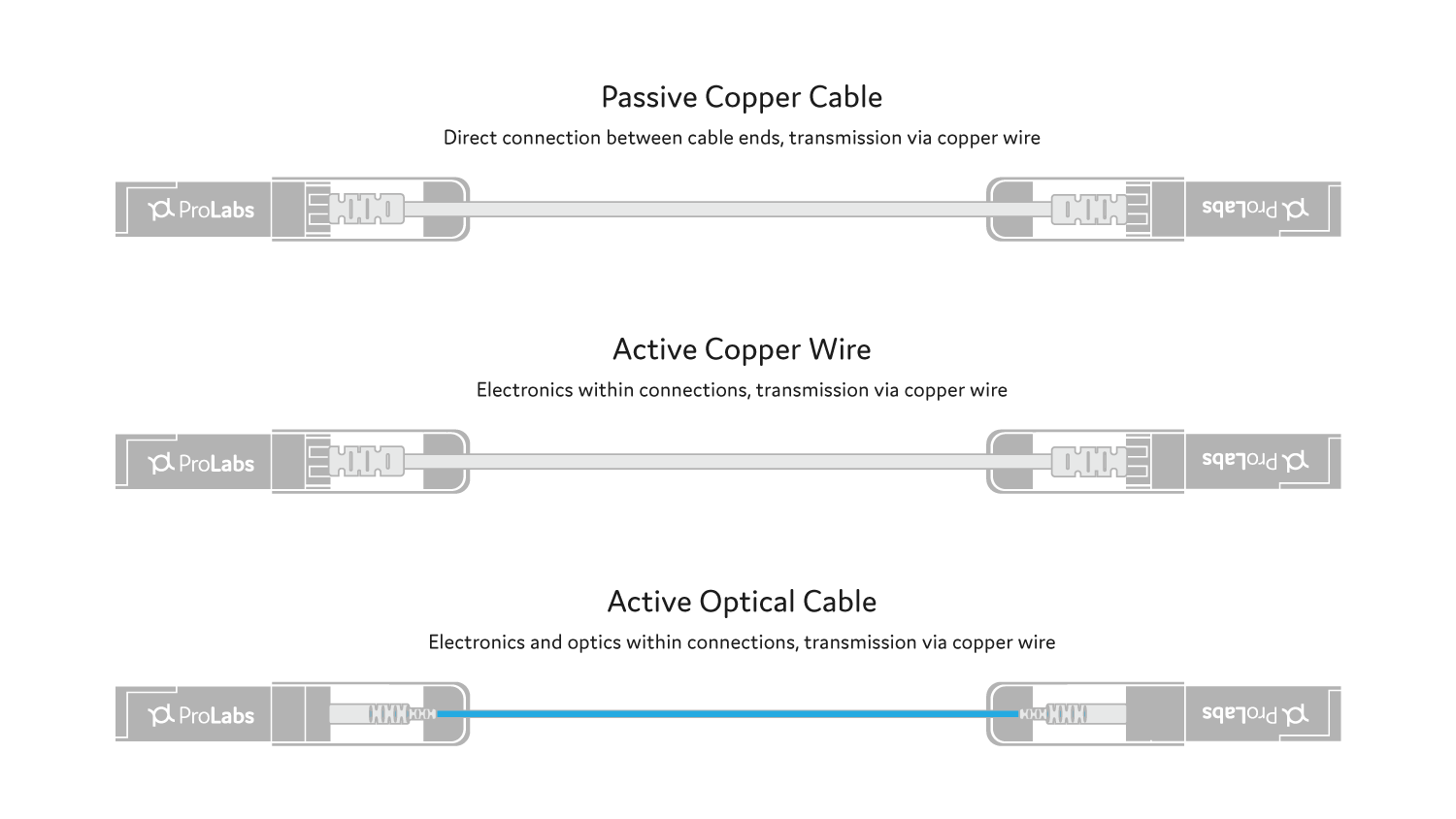 Direct Attach Cable vs. Optical Transceiver Module
When connecting switches together to form a stack that connects to routers or servers, DACs, AOCs, and optical transceiver modules are utilized. While DACs and AOCs are fixed cable assemblies with various form factor connectors on both ends, optical transceiver modules require fiber cables in order to be inserted into the transceiver module. For more information, see our comparison video of DAC vs. AOC.
| | Reach | Cable Type | Power Consumption | Bend Radius | Application |
| --- | --- | --- | --- | --- | --- |
| High Speed Direct Attach Cable | 1m – 100m | Twinax copper cable or fiber optic cable | 0.15w – 1w | 24 AWG – 30 AWG | ToR, Adjacent racks, Middle of Row, End of Row, Zone to Zone |
| Optical Transceiver Module | Per TIA/IEEE standard (up to 160km) | Twinax copper cable or fiber optic cable | Up to 4.5w | Depending on cabling used | ToR, Middle of Row, End of Row, Zone to Zone |
Direct Attach Cables for Data Center Interconnection
High speed direct attach cables are available in a variety of configurations that connect both new and used equipment while minimizing expenses at every point of connection. In top-of-rack switches with 32 to 56 ports that can accommodate up to 128 links, DACs are used (4x25G times 32 ports). DACs with greater data rates are typically backwards compatible with twinax cables with lower data rates.
DACs in different form factors are as follows:
Shop Passive or Active DACs at prolabs.com
ProLabs' series of DACs
---
For more information or additional insights on ProLabs' fiber optics, contact us today!