Trends in 400G Transceiver Form Factors
The adoption of new form-factors and features is nothing new with the dawn of new technologies. The 400G era is upon us and like previous technology cycles, the 400G market will feature different transceiver form factors targeting specific network applications.
Next-generation transceiver form factors share three attributes: small in form-factor, low power consumption, and interoperability between all system vendors. Understanding how the 100G transceiver market developed will help us understand the introduction of 400G technology.
Service providers required a pluggable transceiver for long reach and dedicated technologies, such as coherent detection. The data center team required a solution for a short reach (up to 2KM) application with both low power consumption and low cost.
The CFP form factor was the first 100G pluggable transceiver, providing support for both short and long reach applications, but was very large and consumed a high amount of power (12W). As technology and components improved in size and power consumption, the smaller CFP2 and CFP4 were introduced to the market. Despite technology improvements, embedded coherent technology for 100G and 200G are still only available today on CFP and CFP2 form factors.
In parallel, hyper-scale data centers with their phenomenal need for additional bandwidth capacity, have pushed the QSFP28 form factor (See our post, "A Missing Link," for more) for various short reach applications (DAC, PSM4, CWDM4, and SR4). The QSFP28 has seen wide adaption and offers a much smaller form factor with lower power consumption than the CFP form factors.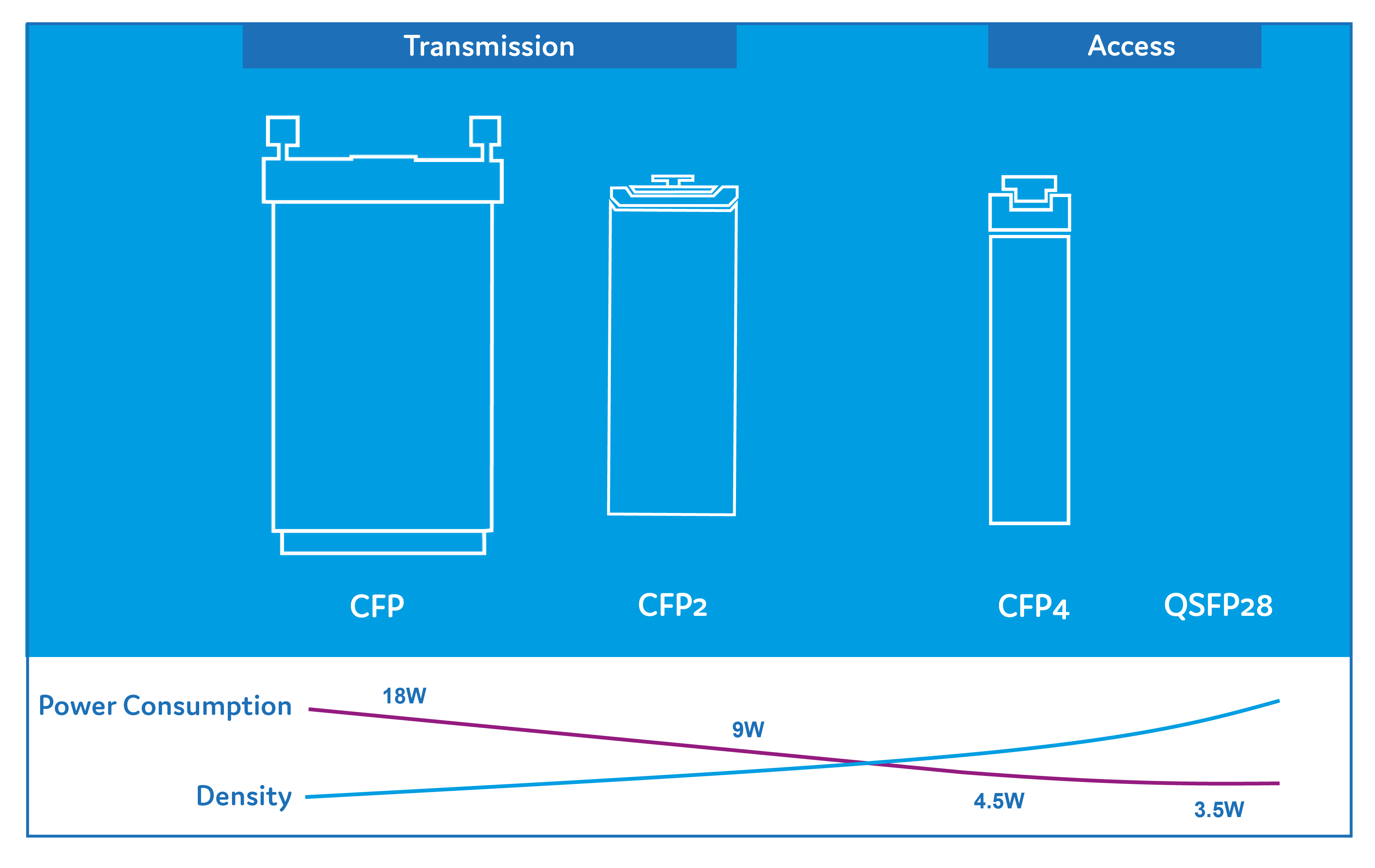 Understanding the questions behind 100G applications is important in anticipating how 400G will be adopted.
Who needs the 400G pluggable transceivers?
For which application?
What about technology maturity?
Is there any interoperability with former form factors?
Following the same logic as 100G, the 400G is a priority for the large data centers and, at a lower scale, for service providers.
400G requires PAM4 modulation for transmission, making the reach more challenging. The initial 400G transceiver reach will be limited to only a few kilometers. Longer reach will require coherent detection and its support technologies, including amplification, and dispersion compensation.
Like 100G, 400G will see similar adoption based upon the intended applications. Most likely a dedicated form factor for the data center and another for longer reach applications. The early 400G technology development is avoiding the "intermediate" form factors (i.e. CFP2, CFP4) that 100G adoption followed.
400G will be introduced with two form factors for the access networks and data center.
QSFP56-DD (also called QSFP-DD for QSFP Double Density)
OSFP (for Octal SFP)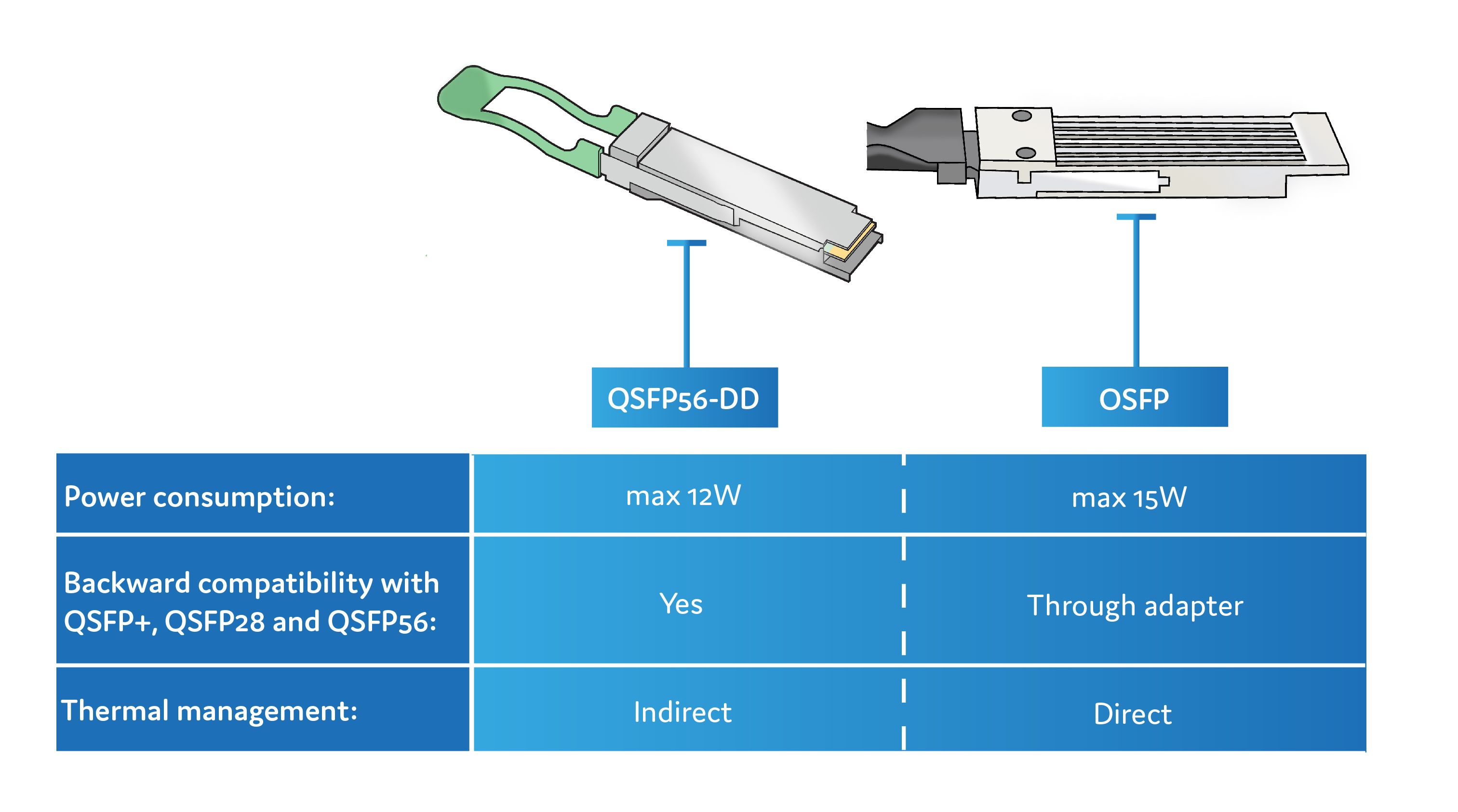 Both form factors are running 8x lanes of 50G PAM4 on the electrical side while the optical side can be either eight lasers of 50G PAM4 or four lasers of 100G PAM4. In the four-laser design, we add a "gearbox" converting 8x 50G PAM4 electrical to 4x 100G PAM4. (Also see our dedicated blog article: "From 50Gbps PAM4 to 100Gbps PAM4")
The QSFP56-DD is defined by the QSFP-DD MSA alliance (www.qsfp-dd.com) while the OSFP is defined by the OSFP MSA group (www.osfpmsa.org). The two form factors are similar but have three key differences:
OSFP allows more power (< 15W*) than the QSFP-DD (<12W*). The OSFP allows an early adoption because it's easier to release a technology designed for 15W than 12W.
The QSFP-DD port is backward compatible with QSFP+ (40G), QSFP28 (100G) and QSFP56 (200G). The OSFP port requires a QSFP to OSFP converter module.
The OSFP integrates thermal management directly into the form factor, the QSFP-DD does not.
*For more information in the our blog article "QSFP-DD vs OSFP, the match!"
Both QSFP-DD and OSFP are designed for intra-DC applications including DAC, AOC and optical connection up to 2km. Additional variants are in development to support data center interconnect (DCI) with longer reach and other technologies like DWDM super channel.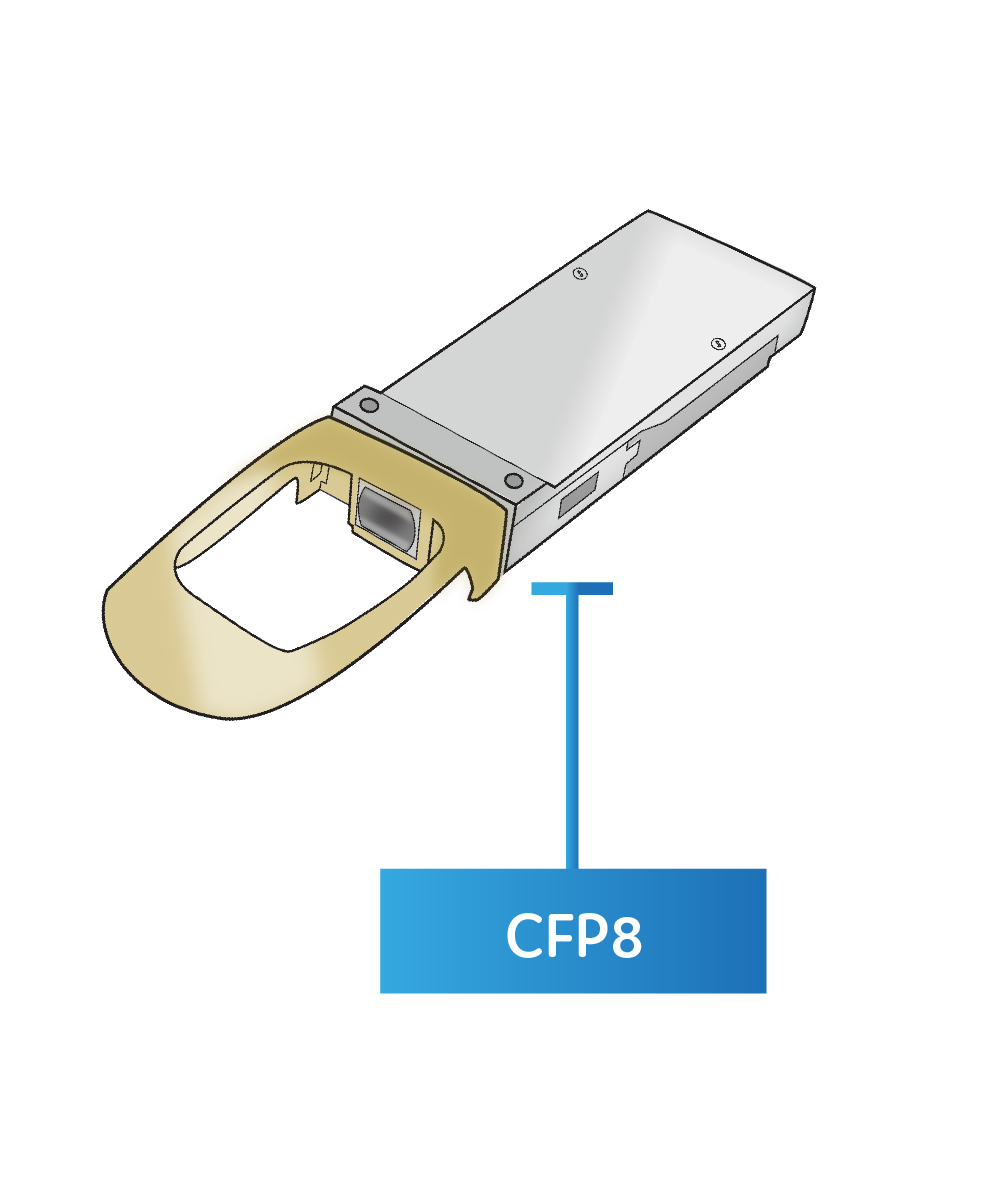 The CFP8 form factor, defined by the CFP MSA (www.cfp-msa.org), is radically different than QSFP-DD and OSFP:
Allowing up to 24W power consumption
It has 16x channels 25G NRZ on the electrical side (instead of 8x 50G PAM4 for QSFP-DD and OSFP)
Providing for an MDIO management interface (instead of I2C for QSFP-DD and OSFP)
With its large footprint and high-power consumption (up to 24W), the CFP8 is intended for transmission application. The initial version (CFP8 400GBASE-LR8) will support up to 10km, using 16x electrical lanes of 25G NRZ which are converted to 8x lanes of 50G PAM4.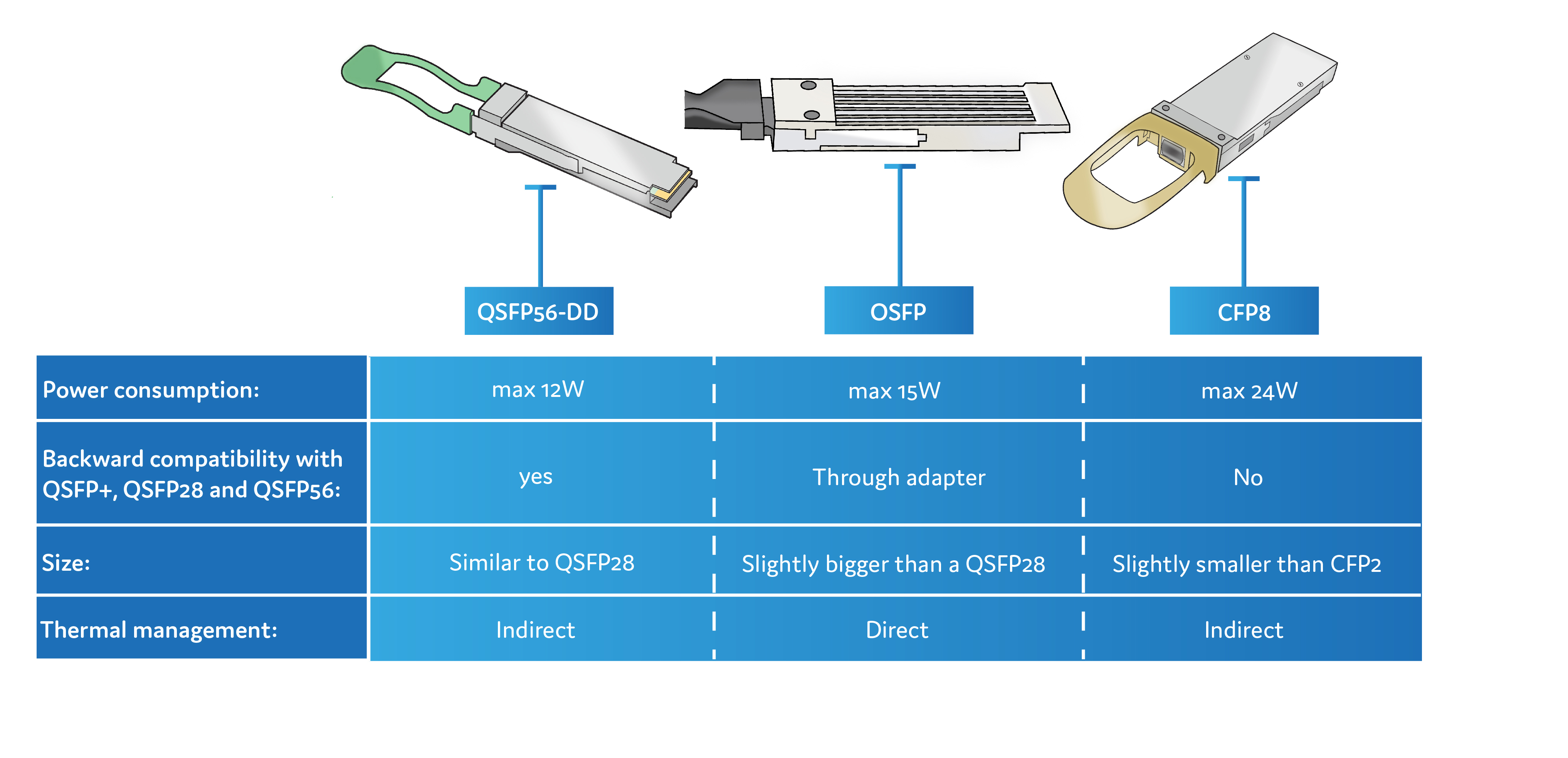 Additional variants using coherent detection technology that will support up to 80KM are down the road. In addition to driving longer distances, the CFP8 opens the door to 800G. 800G is possible by a combination of 50Gbps PAM4 modulation DSP, coherent detection and multiplexing of lasers to the CFP8's 16x electrical lanes. Clearly, this technology is far off on the horizon.
The 400G era is upon us. Understanding technology applications will help us better understand the transceiver technology adoption.
Ambroise Thirion

Product Solutions Specialist