The widescale implementation of 5G networks is rapidly approaching and promises to revolutionize mobile networking, delivering speeds one hundred times faster than existing rates.
As more and more countries make the implementation of 5G a primary initiative, the U.S seems to find itself scrambling to keep up with leaders like China and South Korea. The need for an effective 5G network is so vital that some inside the federal government have proposed plans to nationalize the effort.
Despite private sector pushback, several legislative acts have passed since 2019 supporting federal intervention. But what exactly would a nationalized 5G effort look like?
What would a nationalized 5G effort look like?
A nationwide 5G network would require substantial time and resources. Currently estimated to create over 3 million jobs and cost upwards of 3 trillion, building a nationwide 5G infrastructure would be one of the largest federal initiatives ever attempted.
A project of this scale would also require contractual coordination with existing private sector technology leaders. According to a 30-page National Security Council Report circulating around the Trump Administration, the current federal plan would provide business opportunities to telecom gear suppliers such as Nokia, Cisco, and Ericsson - while at the same time creating negative results for service providers who have devoted substantial resources to the advancement of 5G.
Wireless carriers like Verizon and Sprint have voiced their concerns with a nationalized 5G infrastructure and have continued to carry on with their existing plans.
Contractual partnerships between The Federal Government and technology providers will result in billions of dollars in revenue for private-sector corporations. But one caveat that businesses must face when supplying the government is the need for their products to be TAA compliant.
But why exactly does the federal government require TAA compliant suppliers, and what does it mean to be TAA compliant?
What is TAA?
The Trade Agreement Act (TAA) (19 U.S.C & 2501-2581) was created in 1979, its purpose was to cultivate the growth of an international trading system and to encourage bilateral trade with certain countries.
Specifically, compliance with TAA requires that all U.S Government suppliers including General Service Administration (GSA) contracts obtain their end products from "designated countries". Meaning that these products must be either created or "substantially transformed" in a pre-approved country.
The United States
World Trade Organization Government Procurement Agreement Countries
Free Trade Agreement Countries
Least Developed Countries
Caribbean Basin Countries
TAA compliance applies to all federal procurement contracts including GSA (General Service Administration, IDIQ (Indefinite Delivery, Indefinite Quantity), and most DOD (Department of Defense) contracts.
This means any corporation that supplies The Federal Government with products to deploy a 5G infrastructure will have to ensure their products are TAA compliant. Leaving qualified prime and sub-contractors waiting to place bids once federal plans are submitted and approved.
Congress's role in 5G deployment
Recent legislative developments have given insight into what federal agencies will play a role in the implementation of 5G.
As of now, the FCC (Federal Communications Commission) will play the largest part in the 5G expansion project. Specific bills including the 5G Fast Plan and Secure 5G and Beyond Act allow the FCC to auction off spectrum availability, develop specific infrastructure policy, and modernize outdated hardware.
These bills also stipulate that the executive branch is required to present a full plan of a 5G rollout within 180 days of the bills signing. Meaning many tech companies will have the opportunity to bid on contracts to supply the Federal Government sooner than they expected.
ProLabs' commitment to compliance and certification
Working with a trustworthy supplier with a transparent supply chain is crucial for your business to receive TAA compliant products. ProLabs brings over 20 years of experience in serving thousands of customers ranging from telecom to the Fortune 500 and federal government, with millions of optical transceivers shipped.
ProLabs offers their customers the quality that comes with certifications from multiple regulatory agencies including The International Standard Organization (ISO), Better Business Bureau (BBB), and The Network Equipment Building System (NEBS).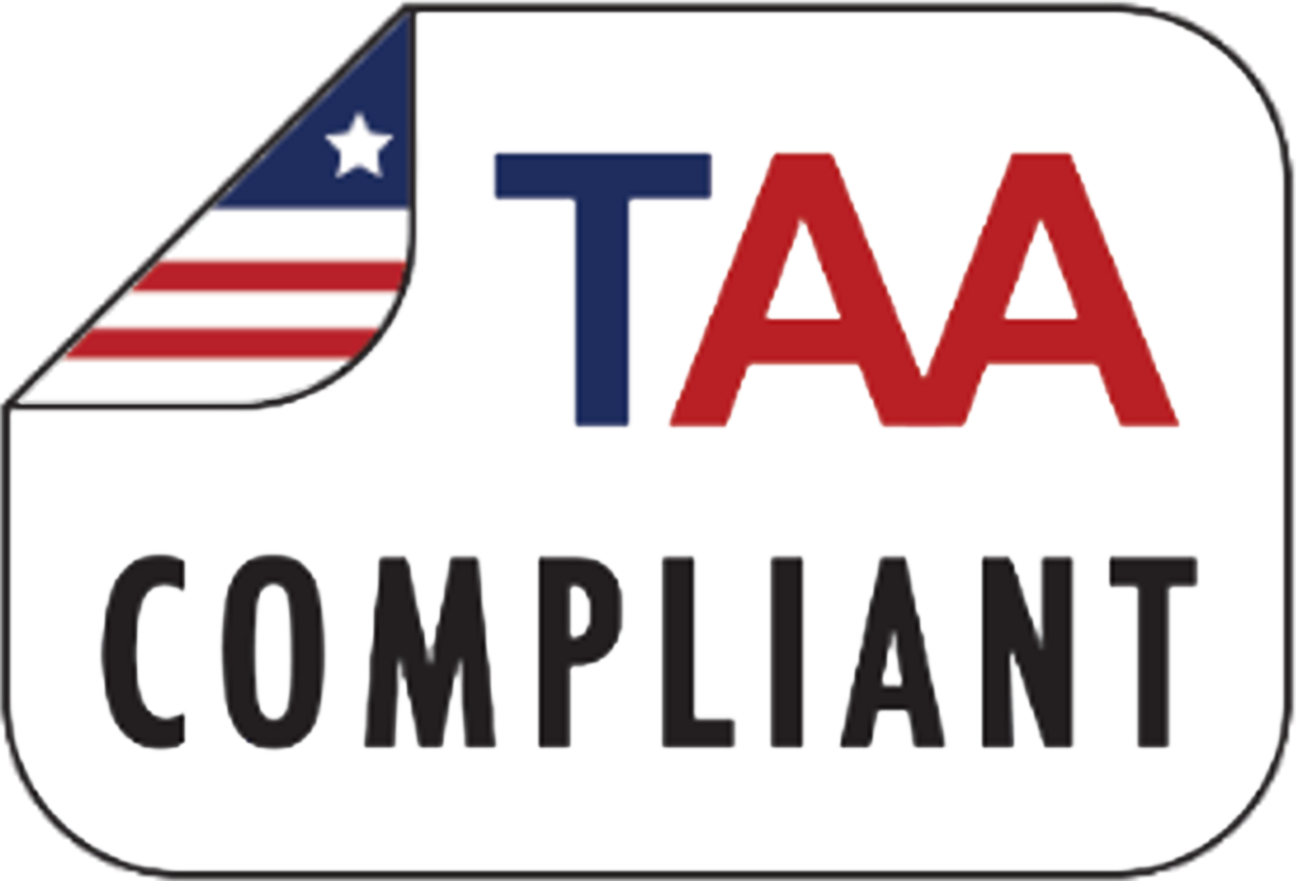 Contact us for more information on the compliance and certification of our products.
Want to know more about TAA? More Here