The UK is on the threshold of a new period of connectivity. The move to fibre-to-the-premises (FTTP) as well as new technology standards like 5G and Wi-Fi 6 will help current connectivity infrastructure keep up with rising requirements in well developed areas.
While fibre is being rolled out across the UK, only approximately 14% of properties have access to it. This is where alternative network providers (also known as "Altnets") are making a difference by providing the power of choice to new segments of the market.
Altnets help the UK move away from its dependence on larger telecom companies for physical broadband infrastructure towards more nimble companies that are not tied to the UKs copper network.
Altnets sell fibre directly to business and home users by deploying full fibre networks and satellite wide services in urban and rural areas without a copper network. This removal of reliance on the larger telecom copper infrastructure creates opportunities for new customers in untapped areas of the country.
The UK Independent Network Sector' report shows this market is four times larger than a decade ago and continues to attract significant sums of private investment. According to this report; "Nearly £12bn ($16.8bn) will be invested in the delivery of new full fibre connectivity by independent providers before the end of 2025."
Other key points in the report:
845,000 properties are currently connected to either a full fibre or gigabit fixed independent network.
Gigabit infrastructure supplied by independent operators reached over 6.6 million premises at the end of 2021 with an estimated 1.1 million live connections made.
By the end of 2025 nearly 30 million homes and businesses will connect to an Altnet, with around 6.2 million live connections made.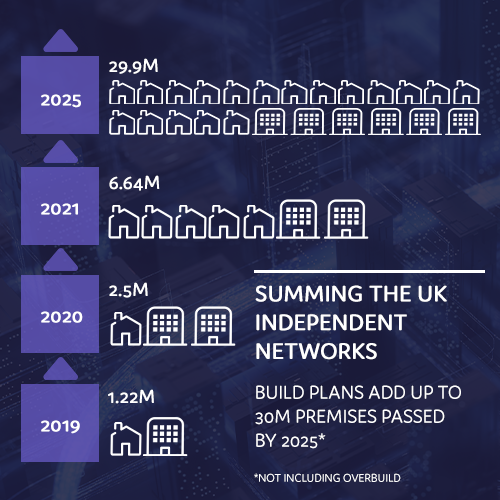 By looking to Altnets to unlock a future full fibre network, the UK will see improved high-speed connectivity coverage and a lift in productivity for homes & businesses connected to fibre for the first time. People have changed the way and place they work – in turn they now need the network performance they enjoyed in an office and access to 21st century technology from homes, coworking locations, & even while on the go.
Workplaces & homes throughout the UK will gain entry to faster and more reliable broadband, which comes with multiple benefits. High-speed internet & mobile data access enables people in remote/rural areas access to the online workforce and promotes extra productivity in those already working from outside the office. Beyond the workplace, newly connected consumers can better enjoy high-definition video, data, & game streaming services while video conference services help to keep them more connected to others wherever they are in the world than ever before.
For more than 20 years ProLabs has provided network providers of all sizes around the world with high quality transceivers and cabling solutions. ProLabs can support your network needs with the widest range of MSA compliant compatible optical transceivers from 1G to over 200G and with a full range such as GPON, XGS PON and COMBO PON.
ProLabs high-quality products offer more choice; and significant TCO benefits when measured against vendor supplied parts such as Adtran, CISCO, Nokia and Juniper to name just a few.
Contact us today to gain good savings and short lead times.